| | | |
| --- | --- | --- |
| &nbsp | Modular Cable and Wiring Accessories | |
Six-conductor modular cable is used to make all connections to ZoneMaster boosters.

For best results, let us create custom length cables for you. We will cut, strip, crimp and test each cable we build for you.

CVP also sells bulk cable and crimp connectors individually.

Of course, you can purchase modular cable, connectors and the proper tool from various suppliers including your local hardware store. Just be sure to be careful to get crimp connectors that are matched to the type of modular cable. If the cable is stranded, use connectors designed for stranded cable. If the cable is solid, use connectors designed for solid cable.

There are two types of modular cables and the two are not interchangeable. You must specify the correct type of cable since custom cut cable is not returnable.

Data Cable is characterized as maintaining a Pin-1 to Pin-1 relationship on both ends of the cable. This is the most common type of cable used with various systems.

Telco Cable flips the pin orientation. Pin-1 becomes Pin-6 at the other end. This is not commonly used except with older CVP Products DCC equipment.

Determining the type of cable is easy. Look at the cable itself and find the center molding ridge in the outer jacket. Now look at the connectors and note the position of the release tab relative to the molding ridge. If the release tab is oriented in the same direction, in the picture, it is up, then you have a Telco cable. However, if the tab is up on one end and down on the other end, you have a Data cable. In the photo below, the cable is a Telco style cable (tabs up on both ends relative to the molding ridge).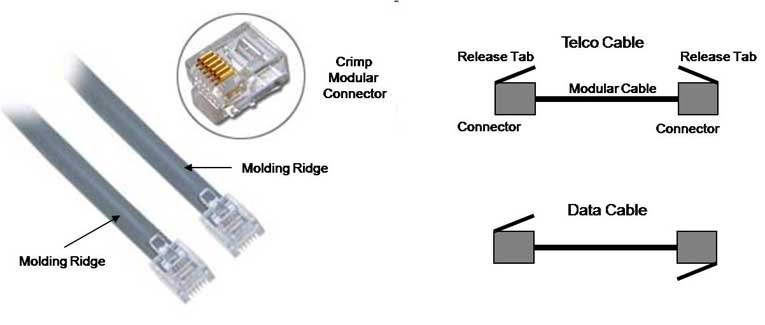 Cut To Length Custom Cable Assemblies

Be sure and specify the length and the type of cable, Telco or Data style. The connectors are crimped onto the cable and the entire cable is tested before shipment.