The new T5000E is our 3rd generation wireless throttle which establishes yet another new benchmark for simplicity, capability and stability. Inside this value priced throttle are premium features and capabilities that our users have asked for or wished for in our prior generation throttles. With the help of a full graphics LCD, simple menus, on-screen messages, icons and intuitive key sequences insure you always know what to do next. And there is a T5000E model that includes a user controllable backlight.

The new T5000E wireless throttle offers a host of premium features such as long range, user adjustable transmit power levels, yet has a price that won't break your budget. Already have an EasyDCC System and thinking about going wireless? Don't worry, the T5000E is fully compatible with all legacy EasyDCC systems.

Choose A Sunlight Readable LCD or an LCD with a Backlight

There are two versions of the T5000E. Our standard T5000E throttle comes with a very bright sunlight visible LCD display. Our second model has a backlit LCD.

The backlit T5000E throttle includes a power efficient LED backlight. Just push the key labeled CONS (an abbreviation of contrast) to enhance the contrast of the LCD. Push the same key to turn it off. When on, the battery life is decreased less than 10%. But, for best results and the least effect on the battery, teach your operators to only use it if necessary. The display is still visible even without the backlight turned on.

Simple To Use

With its big graphic display and logical keyboard layout, your operators can pick up the throttle and instinctively know how to operate their train. Changing the speed or direction and controlling locomotive functions is simple and doesn't take an elaborate set of instructions.

Fast Response

The T5000E is optimized to provide fast response time and quick locomotive changes when many throttles and locomotives are active.

Comfortable and Convenient

The T5000E small size and convenient placement of the speed knob allows precise speed control. The design allows for convenient one handed operation - for both right and left handed operators. The sleek, balanced case makes the throttle very comfortable during long operating sessions.

No External Antenna

The T5000E has the antenna mounted inside the throttle. You no longer have to risk spearing fellow operators with an old fashioned whip antenna.

Plenty of Original Features - Plus Features Unique To The T5000E
8 locomotive address memory slots
Quick-swap to last loco address
Linked locomotive and radio frequency
11 different transmitter power levels
Supports scan and burst mode operation
Configurable Auto-shut off timer
Big speed control knob
Optional belt clip
Quantity discounts available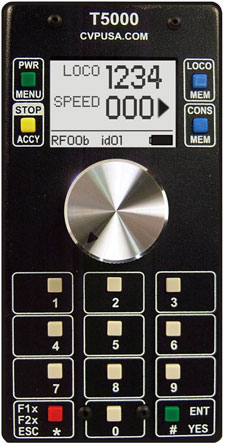 Throttle measures 4.9" x 2.4" x 0.8"
T5000E Throttle
With or without Backlight


The optional belt-clip mounts to
the back of the throttle
with the included screws.