&nbsp
Power Supplies and Transformers


For Your E

ASY

DCC Equipment
Good power supplies are mandatory to obtain the best possible performance from your EASYDCC equipment. For example, the DCPS120 power supply provides up to 30A of capacity for short periods of time. This surge capability allows your ZoneMaster booster to power up entire yards full of sound-equipped locomotives.

For non-USA locations, the DCPS120 is the perfect solution for powering your Command Station using the optional 3.5mm plug and cable - shown at the bottom of the page. It can also serve as the power supply for your plug-in throttle bus Extender circuit board.

DCPS120 - 120 Watt Universal AC Input Power Supply

The perfect companion for your ZoneMaster Boosters. This high efficiency power supply offers the best compromise between high power and small size. It is safe for all types of household voltages and is perfectly suited for any railroad, anywhere in the world.

The peak track voltage is set with the slide switch with the 15V setting perfect for most HO and O layouts. Higher voltages may be selected for larger scales.

The DCPS120 is perfect for the ZoneMaster Boosters. It will provide more than 8 Amps which is more than sufficient to guarantee maximum output current from any of the CVP ZoneMaster Boosters.

Universal AC Line Input - 100V - 240V Works Worldwide: This is a universal supply suitable for all primary voltages found throughout the world. The supplied plug fits most European wall outlets. For unusual wall outlet requirements, the plug can be cut off and a suitable one can be attached.

Easy Voltage Selection: The desired output voltage is selected by using the slide switch. Once selected, a protective cap can be snapped in place to prevent accidental changing of the output voltage.

120 Watts Of Power: The maximum power output is 120 Watts. To determine the maximum available current at a specific voltage setting, divide the power rating (120W) by the output voltage. For example, with the 15V setting, up to 8 Amps can be supplied.

Fully Protected: The DCPS120 is protected against overloading, short circuits and overheating. The output will shut down should any of these faults occur and automatically reset when the fault is cleared.

Line Cord and 2mm DC Plug Included: An AC line cord is included. And the heavy duty DC plug fits the 2mm jack found on all ZoneMaster Boosters.


DCPS120 - 120 Watt Universal AC Input Power Supply. . . . . . . . . $55 each








---
Plug-In AC Transformers For 110VAC/60Hz
Extender Transformer
The 20VA transformer - 12VAC @1.5A - has plenty of power for your throttle-bus Extender circuit board. One transformer can be shared with another Extender circuit board. Screw terminals make for quick hookup. For use in the Americas and Japan only. Plugs into any 110VAC outlet.

12NVT - Extender Transformer . . . . . . . . . . . . . . . . . . . . . . . . . . . . . . . . . . . . $12 each
Command Station and Wireless Receiver Transformer
Both the Command Station and the Wireless Receiver use a small 12VAC @ 500mA plug-in style transformer with a 3.5mm plug to match the power jacks. For use in the Americas and Japan only. Plugs into any 110VAC outlet.

12VAC - Command Station Transformer . . . . . . . . . . . . . . . . . . . . . . . . . . . $7.25 each
---
Command Station Power Cable Pigtail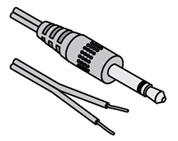 If you intend to use a DCPS120 power supply or some other type of power supply for your Command Station, you will need a matching 3.5mm plug and cable to make the connection. This inexpensive cable matches the power input socket on the Command Station. The plug is attached to 12 inches of two-conductor cable.

CSPWR - Command Station Power Cable Pigtail . . . . . . . . . . . . . . . . . . . . . . $5 each


Prices do not include shipping or handling. All prices subject to change without notice.
---

P.O. Box 835772 &middot Richardson, TX 75083-5772
Phone: 972.238.9966
email: info@cvpusa.com &middot www.cvpusa.com


---